Wanted / Antique Fishing Lures and Tackle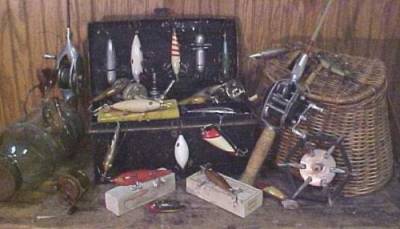 If you have antique fishing tackle or old lures that you are thinking about selling, please leave me your phone number, and I would be happy to call you at my expense. Or just drop me a line and we can go from there.
If you should have anything that you would consider selling, I would definitely appreciate a chance to purchase your item. Please don't hesitate to email or call me anytime, or send me some pictures via email. If you do not have access to a scanner or digital camera, please contact me. There are other options, and we can discuss them.
Always paying top dollar for Antique Lures and Boxes from companies such as James Heddon and Sons, Creek Chub Bait Company, William Shakespeare Co., Pflueger Enterprise Company, South Bend Bait Company, Moonlight Bait Company, Fred Keeling, and many more. I am interested in anything from old wood lures to later plastic lures.
Also looking for Fishing Reels from companies such as Meek, Milam, Talbot, Heddon, William Shakespeare Jr., South Bend, Pflueger, Indiana Style Fishing Reels, and many more.
I am very interested in old lure and reel boxes. In many cases, they add greatly to the value, so don't throw them away.
I am interested in purchasing anything from a single old fishing lure or reel, to an entire collection. Please call or email. I would love to hear from you.
It is sometimes easier to reach me by sending an email as my phone time is limited.

If possible try to email me with some kind of a picture so that I can get a general idea of what you have and can make an appropriate offer. It is hard for me to judge a value without pictures and an accurate description.

I collect early Fishing Lures and Reels and their Boxes. I am also interested in all items pertaining to Early Fishing History. Some of these items include Early Split Bamboo and Wood Rods, Old Glass Minnow Traps, Catalogs, Wooden Tackle Boxes, and much more. I will buy a single piece or an entire collection. I pay very fair prices, so if you have something to sell, please give me a try.
I also pay finders fees. Ask for details
"I will buy one piece or an entire collection."
Below is a detailed list of some of the old miscellaneous baits and lure boxes that I would like to purchase. Please get in touch with me if you can help with any of these antique fishing lures. A vintage wood or cardboard picture lure or reel box would really make my day. There are many more that are not on this list. In most cases, I will pay book prices but sometimes very much more:
Fred C. Keeling, Rockford Illinois, Keeling's Expert Minnow, St. Johns Wiggle, Tom Thumb Wiggler, King Bee Wiggle Minnow, Pike Tom, Surface Tom, General Tom, Musky Expert, Round Body Expert; Moonlight Bait Company, Paw Paw Michigan, Silver Creek Novelty Works, Schoenfeld Gutter, Underwater Minnow, Floating Bait, Dreadnought, Trout Bob, Fish Spear, Zig-Zag, Bug, Ladybug Wiggler, Pikaroon, Floating Minnow, Pollywog; Paw Paw Bait Company, Crawfish, Bullhead, Natural Hair Mouse, Sucker Minnow, Casting Minnow; William Jamison Co., Chicago Illinois, Nemo Bass Bait, Winged Mascot, Struggling Mouse, Hasting's Weedless Frog; Heddon Fishing Lure, James Heddon and Sons, Dowagiac Michigan, Wood Box Minnow, Dowagiac Killer, Heddon's Dowagiac Gamefish Minnow, Kinney's Bird Lure, Heddons Night Radiant, Mohawk Casting Bait, #150 Dowagiac Minnow, #100 Dowagiac Minnow, Heddon's Dowagiac, Slopenose, Underwater Expert, Killer Wooden Minnow, #20, #175, #200, #250, #300, O, OO, Dummy Double, #350, 800, #900, #1600, #1700, Black Sucker, Crab Wiggler, Tadpolly, Deep-O-Diver, Spindiver, Vamp, Basser, Torpedo, Punkinseed, Ice Decoy, Zaragossa, Walton Feather Tail; Antique Heddon Fishing Lures; Rush Tango, Syracuse New York, Pflueger Fishing Lure, Pflueger, Wood Box Minnows, Portage, Ernest Pflueger Minnows, Enterprise Manufacturing Company, Four Brothers Neverfail Minnow, 4 Brothers, Pflueger's Artificial Bait, Akron Ohio, Electric Minnow, All-In-One Minnow, Trory Minnow, Wizard Minnow, Wizzard Minnow, Electric Minnow, Catalina, Magnet, Globe, Kent Frog, Kent Floater, Monarch Minnow, Metalized Minnow, Neverfail Minnow, Catalina Minnow, Surprise Minnow, Simplex Minnow, Simmons Ketch-em, Conrad Frog, Antique Pflueger Fishing Lures; Shakespeare Fishing Lure, William Shakespeare Company, Wiliam Shakespeare Jr., Kalamazoo Michigan, The Rhodes Perfect Casting Minnow, The Rhodes Wooden Minnow, Revolution, Wood Revolution, Cork Revolution, Sure Lure, Floating Spinner, Rhodes Mechanical Swimming Frog, Shakespeare Wooden Minnow, Punkinseed, Rhodes Torpedo, Kazoo Minnow, New Shiner Minnow, Slim Jim,Whirlwind, Waukazoo; Antique Shakespeare Fishing Lures; South Bend Fishing Lure, South Bend Bait Company, South Bend Indiana, Underwater Minnows, Worden Combination Minnow, Min-Buck, Muskie Casting Minnow, Panatella, Weedless Floating Minnow, Surface Minnow, Surf-Oreno, Midget Surf Oreno, Lunge-Oreno, Truck-Oreno, Whirl-Oreno, Woodpecker, Vacuum Bait, Plug-Oreno, Bass Oreno, Antique South Bend Fishing Lures; Wilson Casting Lure, Hastings Sporting Goods Co., Flanged Wobbler, Wilson's Wobbler, Cupped Wobbler, Bassmerizer, Six-in One Wobbler, Staggerbug, Algers Getsem; Creek Chub Fishing Lure, Creek Chub Bait Company, CCBCO, Garrett Indiana, Intro Box, Wiggler, Husky Musky, Crawdad, DeLuxe Wag Tail Chub, Wagtail, Open Mouth Shiner, Pikie Minnow, Injured Minnow, Underwater Spinner Minnow, Fin Tail Shiner, Fintail, Ice Spearing Decoy, Wiggle Fish, Creek Bug Wiggler, Weed Bug, Wee Dee, Castrola, Gar Minnow, Sarasota, Plunker, Pollywiggle, Lucky Mouse, River Rustler, Beetle, Sucker, Jigger, Flip Flap, Ding Bat, Dinger, Feather Casting Minnow, Antique Creek Chub fishing Lures
More Early Miscellaneous fishing lures; Abbey & Imbrie, Ackerman Minnow, Monticello Indiana, Franklin A. Alger, Grand Rapids Michigan, Getsem Weedless Bait, Fred Arbogast Tin Liz, Snake, Walleye, Albany Floating Bait, E.J. Babbitt, Holland Michigan, Babbitt Weedless, A.J. Baldwin, Benton Ridge Ohio, Baldwin Minnow Tube, Al Foss, Barracuda, Biff Bait Company, Milwaukee Wisconsin, Biff Bait, Whoopie Biff, Muskie Spiral Spinner, Godevil Biff, A.F. Bingenheimer, Bings Nemhbin Minnow, Bowersox Minnow, Bucktail Minnow, Surface Minnow, Bite-Em-Bait Company, Fort Wayne Indiana, Warsaw Indiana, Bite-Em-Bate, Water Mole, Bite Em Bug, Bite-Em Pork Bait, Lipped Wiggler, Wiggler, Bite-Em Minnow, George Bolton, Detroit Michigan, The Bass Hog, A-B-C Minnow, Bidwell Bait, Bowersox Minnow, Brainerd Bait Company, Gold Cap Dodger, Case Bait Co., Detroit Michigan, Case Rotary Marvel, Charmer Minnow Co., Springfield Missouri, Charmer Minnow, Musky Charmer, Christiansen Frog, J.L. Clark Manufacturing Co., Rockford Indiana, Clark Expert Minnow, Clark Musky Expert, Clark's Makes-Em-Bite, LaPorte Indiana, The Croaker, C.A. Wilford and Son, Dunk's Fishing Tackle, Dunk's Double Header, Carter's Bestever, Eureka Bait Co., Coldwater Michigan, Wiggler, Finch, Hell Diver, Ghost, Coldwater Bait Co., Coldwater Michigan, Comstock Chunk Bait, George Cummings, Dover New Jersey, Darby Spin Head Weedless, Whiting Indiana, Ans. B. Decker, Lake Hoptacong, New Jersey, Topwater Casting Bait, Decker Underwater, Delavan, North Channel Minnow, Detroit Bait Co., Detroit Mich., Underwater Minnow, Diamond Wiggler, Detroit Glass Minnow Tube, Dickens Bait Co., Duplex darter, Liar Convertible, Weedless Wonder, Bass Caller, Jim Donaly Baits, Bloomfield New Jersey, Red Fin Floater, Jersey Wow, The Redfin Minnow, Evans Weed Queen, Submarine Bait, Fort Wayne Bait and Reel Co., Fort Wayne Ind., Greiders Retreating Minnow, J.W. Gaide Bait, Flood Florida Shiner, C.J. Frost, Stevens Point Wisconsin, Chippewa Skipper, Immell Bait Co., Hardys Interchangeable Minnow, Haas Liv-Minnow, Sapulpa Oklahoma, Medley's Wiggly Crawfish, Millers Reversible, Jacob Hansen, Muskegon Michigan, Manistee Minnow, Michigan Life-Like Minnow, Spoon Jack, Pull Me Slow, C.R. Harris, Manistee Michigan, Manistee Surface Bait, Harris Cork frog, Hendryx Weedless Snake Wood Minnow, Hendryx Plug, Henkenius Kane, Hildebrandt Bait Co., Logansport Ind., Go-Getter, Livingston S. Hinckley, Hildebrandt Go-Getter, J.C. Holzworth Expert Minnow, Alliance Ohio, Hosmer Mechanical Froggie, Jim Dandy, K&K Animated Minnow, Ghost, Minnoette, Wiggler, Toledo Ohio, Hayes Bait Company, Hildebrandt Go-Getter, Harkauf Underwater Minnow, Harkauf Wooden Minnow, Wood Plug Bait, Homarth Bait Co., Hookzem Bait Company, Ideal Minnow, Jersey Expert, Carl A. Johnson, Johnson Automatic Striker, Keller Gets-Em, Rochester Indiana, W.R. Ketchum, Portage Wisconsin, Ketchum Plug, Klipon Lures, Lake George Floater, C.W. Lane Manufacturing Co., Madrid New York, Lane's Automatic Minnow, Lane's Wagtail Wobbler, Lauby Bait Co., Marshfield Wisconsin, Laubys Wonder Spoon, Lloyd & Company, Hungry-Jack, Hungry Jack, Immell Bait Co., Chippewa Minnow, W.J. Jamison Company, Coaxer, Mascott, E.J. Lockhart Co., Galesburg Michigan, Manitou Minnow, Manistee Minnow, Medley's Wiggly Crawfish, Frank T. Nixon, The Aristocrat Minnow, Nifty Minne Tube, Joseph M. Ness Co., Minneapolis, Minnesota, Myers & Spellman, Outing Manufacturing Co., Elkhart Indiana, Oliver and Gruber Glowurm, F.A. Pardee, Kent Ohio, Pardee Minnow, Kent Floater, Samuel H. Friend Company, Manco Wood Minnow, F.G. Worden Ketch-em Minnow, J.A. Hardy Minnow, Hardys Interchangeable Minnow, Joe E. Pepper, Rome New York, Revolving Minnow, Roman Spider, Roamer Bait, Pepper Underwater Minnow, Octopus Wooden Minnow, Payne's Woggle Bug, Pearl Plug, Paulson Wobbler, Paulsons Combination Minnow, Pfeiffer's Live Minnow Tube, Pontiac Radium Minnow, Pontiac Mich., Rhodes Perfect Casting Minnow, Kalamazoo Minnow, C.C. Shaffer Underwater Minnow, Smith Minnow, Wiggle Tail Bait, Shipley Cedar Propeller, The Reel Lure, Springfield Novelty Co., Eclipse Wooden Minnow, Rush Tango, Schoonie's Scooter, Strike Master Lures, Thoren Minnow Chaser, Turners Casting Bait, O.C. Schaefer, Turbulent Lure, Union Springs Specialty Co., Miller's Reversible Minnow, Howe's Vacuum Bait, Van-Clay Minnow, Christensen Frog, J.A. Holzapfel, Mushroom Bait, Croaker Bass Bait, Welles Patent Plug, Wilcox Wiggler, Winchester Bait Co., Winchester Multi Wobbler, Clinton Wilt Little Wonder, Clinton Wilt Champion, Leo V. Wise, Detroit Mich., Albert Winnie Bait Co., Michigan Stump Dodger, F.C. Woods and Company, Woods Expert Minnow, Ackerman Minnow, Ypsilanti Minnow, Ultra Casting Minnow, Kingfisher Wood Minnow, Riley Haskell Minnow, Chautauqua Minnow, J.T. Buel, W.D. Chapman & Son, Theresa, New York, Hendryx, C.B. Hibbard, L.S. Hill, Jennings Torpedo, J.H. Mann, J.B. McHarg, Walton Speed Bait, Welles Patent Bait, The Winner Wood Minnow, Simmons Hardware Co., Ketch-Em Minnow, Kingfisher Wood Minnow, Rev-O-Noc, Hibbard Spencer and Bartlett, Schmelzer's Wood Minnow, Clewell Snakerbait, Viking Frog, etc.
Below is a detailed list of many of the antique fishing reels that I am looking for. I would be interested in purchasing a single reel and/or box, or several. I am intersted in any Indiana Style Reel, Kentucky Reel, Early Non Levelwinding Reels manufactured by Pennell and Montague, Baitcasting, Tournament Reels, Saltwater Reels, Fly Reels, and more. I pay much more for reels in boxes. Let me know what you have and maybe we can work something out. If you have something that is not on this list, please feel free to run it by me also.
Abbey & Imbrie, Abu Ambassadeur, T.H. Bates, Benson, Billinghurst Birdcage Reels, Bluegrass Reel, Boyer Winona, Bradford & Anthony, J.A. Coxe, Carlton Mfg. Co., Chamberlain Cartridge Co., J.C. Conroy, Cozzone, Creek Chub Wawasee, DNT Spider, Follett, Fullilove, George W. Gayle, Rev-O-Noc, Hardworth, Hardy Bros., James Heddon and Sons, Hendryx, Henshall Van Antwerp, Horton Mfg. Co., Bluegrass, Meek, Haywood, Illingsworth, Jamison, Henry A. Kiest, Kiest Reel, H.H. Kiffe, Kosmic Reel Co., S.L. Kuntz, Leonard, Liberty Bell, Litchfield, Louisville Castin Co., Marshall Field, McGregor-Noe, Milam, B.C. Milam, B.C. Milam & Sons, Meek-Milam, B.F. Meek, B.F. Meek & Sons, J.F. & B.F. Meek, Meisselbach, Micro-Motor, Monarch, Montague, Moonlight, National Specialty Co., OK Machine Co., C.F. Orvis, G.W. Payne, Penn, Pennell, Peters Bait Company, Pettigill, Pflueger, 4 Brothers, Rider Casting Reel, Rochester Reel Co., Schmelzer Arms Co., Schooenfeld Gutter Sea Gull, William Skaespeare Jr., W.S. Jr., Shakespeare Hoosier, Oval Logo, Early South Bend Reels, Intro South Bend Reel Boxes, Pekin, Stockford, Talbot, Talbot Reel & Mfg. Co., Abercrombie & Fitch, Comet, Meteor, Neptune, Niangua, Star, Eli Terry, Virginia Reel, Edward Vom Hofe, Frederick Vom Hofe, Julius Vom Hofe, Wheeler & McGregor, Thos. E. Wilson, Wilson Wobbler Good Luck Reel, Willoughby, Winchester, Yawman & Erbe, etc....Please view my other pages to see a list of the many Antique Fishing Lures and boxes that I am also always interested in purchasing.